aOn a table in a back room at the National Museum of New Zealand, Te Papa Tongariwa, is a canvas bag adorned with Prime Minister Jacinda Ardern's image as a Wonder Woman. Under her armored arms is the phrase "Go hard, go early" – the early 2020 fishing To curb the spread of Covid-19 the country has quickly adopted.
Next to the bag is a set of three tennis balls, with phrases written almost in dry pen: "We do not agree"; "Hands off our children"; Pfizer kills. Anti-vaccine protesters threw these balls at journalists during a demonstration in late 2021, ushering in a growing discontent among some groups about vaccines and the way the pandemic has been managed.
Side by side, things represent the narrative arc of the epidemic in New Zealand over two years: from the initial social cohesion not seen since wartime, as the population prepares to step back from their nation's leader, to the erosion of loneliness and the shift from direction Lack of trust in the media and institutions.
The objects form part of Te Papa's expanded COVID-19 history collection, which aims to capture New Zealand's experience of the pandemic, from prose to poetic and political.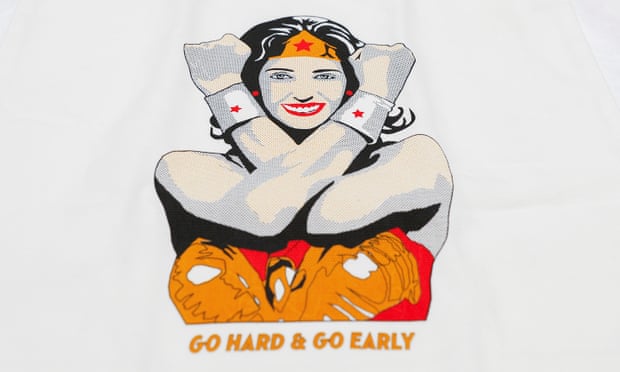 Fan art focuses on the country's director of public health, Dr. Ashley Bloomfield, with his face engraved on a tea towel; There are complex "viruses" made by textile artist Joe Dixie; face masks with embroidered letters; Anti-racism T-shirts and posters call on the state to "stay home and save lives".
Some elements tell a single story, others provoke extensive discussion, and many things call out and respond to one another. For Te Papa, every object—whether scanned, purchased, or gifted—is another color in the palette used to paint a picture of a country afflicted by a pandemic, while still living in the midst of it.
When the nation closed its doors in March 2020, establishments like Te Papa did, too. All acquisitions stopped abruptly, but the museum knew it needed to start creating a record of the event.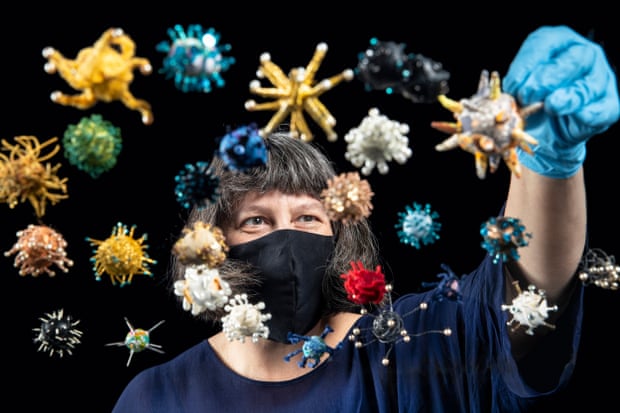 "[We] "We knew we were in strange, unprecedented times, and that was a historic event," says Claire Regnoult, Senior Curator.
The team decided on the topics it wanted to document, including life in lockdown, the government's response, spontaneous community messages on city streets, Maori perspectives, and the experiences of ethnic minorities. Topics broadened with the development of the pandemic to include the introduction of the vaccine and anti-vaccine sentiment.
"What has become clear is the amount of creativity that has been going on during the lockdown in response to both the lockdown and concerns about the virus," says Regnault.
Regnoult refers to Dixie's intricate and beautiful textile carvings of viruses – some embroidered, some made of pearls, rivets, or wire. "This was a wonderful thing because it helps us 'see' the virus, or personify it and then be able to talk about it."
Other items in the collection seek to demonstrate a stylistic evolution – face masks and personal protective equipment quickly become people's canvases to project their cultural identity or politics on.
"We try to have multiple voices and things that have multiple perspectives," says Regnault.
For some New Zealanders, the epidemic began long before it reached New Zealand's shores. For months, Chinese New Zealanders have been in contact with family and friends in China who were already sick or dying from the virus.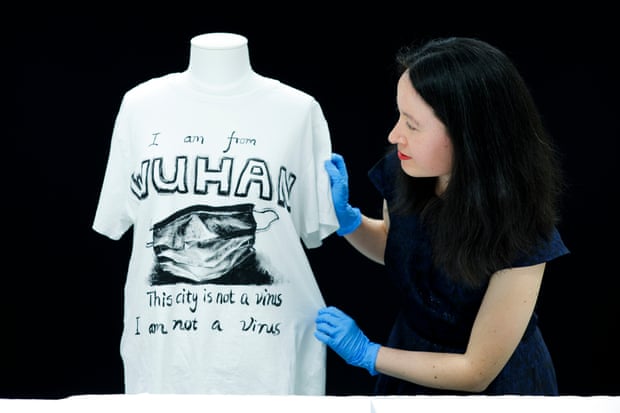 Those experiences, which should have called for sympathy, were often overwhelmed by a racist reaction.
"Something that has been clear in our communities is the way the virus has been racialised," says Grace Jasin, curator of Asian History of New Zealand at Te Papa, who ensures the group captures these views.
"Viruses have no race, but there have been a lot of conversations coming out of the US with Trump talking about the 'Chinese virus' or the 'Kung flu'… New Zealand is not an isolated place, we are globally connected so those messages are also filtered."
The experiences of Asian New Zealanders in the group are not limited to responses to racism. But two of the most striking items are a T-shirt made by New Zealand-Chinese artist Kat Xuechen Xiao, who is originally from Wuhan, emblazoned with the phrase "I am from Wuhan – this city is not a virus, I am not a virus," and a T-shirt made by writer Helen Wong with text. I'm not from Wuhan, drop the fork."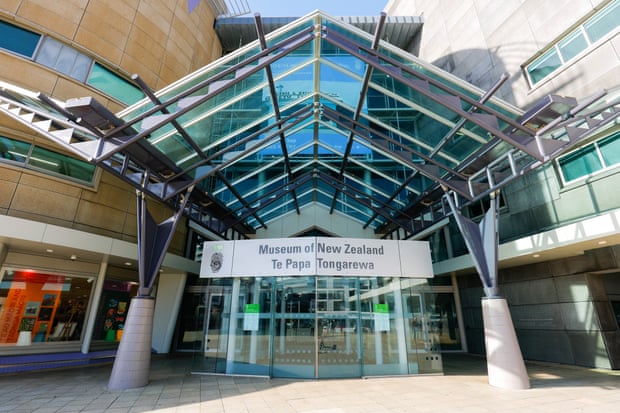 Keep the memory alive
Linda Tyler, art historian and advocate for museums and cultural heritage at the University of Auckland, says museums like Te Papa are shifting away from a colonial and royalty attitude toward collecting to a more collective and nuanced one.
"These physical objects that are part of a time and culture hold memories, and institutions hold our collective memory," she says.
"Not all of us can be responsible for the traffic [these memories] to future generations, so if the foundation is able to do that, there is a lot of value to all of us in knowing who we are and being able to think about that in a meaningful way in the future. "
She says that involving the audience in the composition of the group also gives residents a sense of ownership of her narrative.
"People are more influenced by the stories of common people like themselves, rather than staring at the fortunes of kings and queens."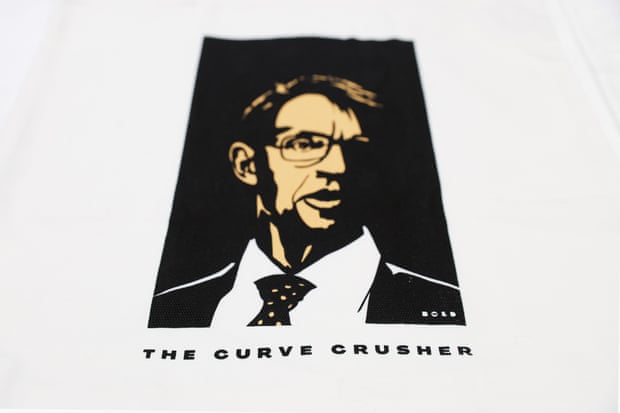 The Covid-19 collection is a living thing – as the world evolves with the pandemic, so is the exhibition.
To build a collection, while still in the midst of an event, he challenges the curator to anticipate what future generations want to know in a historical moment, while trying to maintain a level of sensitivity as people still struggle with crisis. It also allows collectors to collect objects and objects that are fleeting at the moment.
"We collect what we can now – things that we think are interesting or important – but we know that in 10, 30, 80 years people will come to us and say, 'I got this from my grandmother from the Covid pandemic,' so we're working from a far perspective. ' says Regnault.
Curators often look at materials from past events to inform the gaps that need to be filled in contemporary collection, and to find out what is compelling to look at.
"But sometimes, that's exactly what you can get," Regnoult says.